Bazzaz - Yamaha

THE Z-FI FUEL CONTROLLER IS RACE-LEVEL FUEL INJECTOR TUNING.
Benefits
'Wakes up' performance
Crisp and responsive throttle
Smooths out throttle transitions
HP and torque gains
How it Works
Power is dependent on how well the air / fuel mixture is ignited in the cylinder.
Air / fuel ratio (AFR) is controlled by the engine control unit (ECU).
Bazzaz fuel controllers piggy back onto the Engine Control Unit (ECU), intercepting the signal sent to the fuel injectors and changing it.
The precise data for these changes is stored in the Z-Fi fuel controller in the form of a fuel map.
The Z-Fi comes pre-programmed with an enhanced fuel map for power gains and improved throttle response.
Who needs it?
Every vehicle can benefit from fuel tuning.
Stock vehicles may come with a fuel / air mixture that is too lean or too rich in areas, affecting performance.
Vehicles with any modifications (such as exhaust or high-flow filters) must have fuel tuned to accommodate the change in air to the AFR.
Take it to the next level
Access the free Bazzaz Z-Mapper software to view and easily adjust fuel maps.
Load and save fuel maps that are downloaded, manually edited, created on a dyno, or made with the Z-AFM air / fuel self mapper.
QUICKSHIFT. MAKE IT RACE.
WITH FULL THROTTLE, CLUTCHLESS UPSHIFTING.
Benefits
Full-power shifting
Simplifies upshifting process
Transforms any bike into a machine for racing
Exhilarating and fun acceleration
Crucial for competition; approximately .5 second decrease 1/4 mile drag race, 1-2 seconds per lap on road course
Get the hole shot and be at turn one first
Avoids having to 'blip the throttle' and unsettle the chassis
Extends the life of transmission; oil is kept in better condition with less clutch material residue
How it Works
Bazzaz quick shift units sense when the shift lever is activated
Ignition is cut for milliseconds at a time, imperceptibly fast, to allow shift
Ignition cut times adjustable individually for each gear for seamless shifting
Who needs it?
Anyone wanting the performance and feel of a race bike
All competitors
TRACTION IS DRIVE.
CONTROL REAR WHEEL SPIN TO OPTIMIZE CORNER-EXIT DRIVE PROVEN RESULTS AND CHAMPIONSHIPS IN ROAD RACING AND LAND SPEED RACING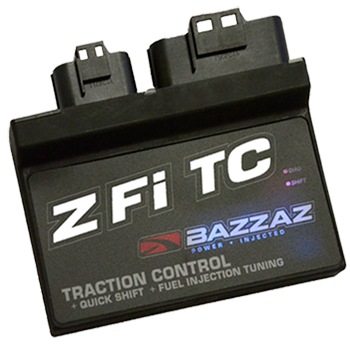 Benefits
Faster corner exit with controlled tire spin and improved traction
Improves rider confidence on corner exit
Sensitivity is fully tunable by throttle position, RPM, and gear
Inference level tunable by throttle position
Improve forward momentum and decrease your lap times
Improve tire performance in adverse conditions
Integrated with fuel control and new universal strain gauge quick shift technology
How it Works
First and only piggy back TC system that uses RPM data, not wheel speed sensors, to determine tire spin
Cuts ignition for milliseconds at a time to limit power to the rear wheel and maintain traction based on rider preferences
Combined with strain gauge quick shift and fuel control
Who needs it?
Competitors looking for the highest level of performance electronics at an affordable price
Any rider looking to improve track times and advance in skill level with traction control
Competitors seeking faster lap times with better traction, quick shift, and fuel tuning
Competitors who need tunable TC in place of inflexible OEM system
F - Z-Fi Fuel Controller 
Q - Quickshifter stand alone or + Fuel Controller (R- Reverse Shift) (S - Standard Shift)
T - Z-Fi TC Traction + Quickshifter + Fuel Controller 
YZFR1 (2020) F750
YZFR1 (2015-2016) F746 / Q746 / T746
YZFR1 (2009-2014) F745 / T745
YZFR1 (2007-2008) F744 / T744
YZFR1 (2004-2006) F743 / T743
MT10 / FZ10 (2017) F795 / Q795 / T795
YZFR6 (2006-2007) F742 / T742
YZFR3 (2015-2018) Q747 / T747 
YZFR3 ABS (2015-2018) F748 / Q748 / T748
YZFR6 (2008-2016) F740 / T740
---
We Also Recommend